WELCOME TO THE JESSIE J WIKI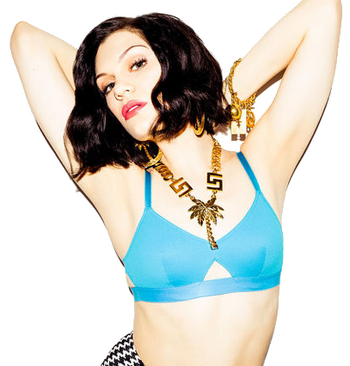 Welcome to the Jessie J Wiki, a collaborative and informative source about all things Jessie J. Here our goal is to provide an informative, attractive Jessie J themed encyclopedia for our viewers and establish a friendly working environment for our editors. Currently, we have 76 articles and 166 files since the wiki's creation in January 2011.
Twenty-eight year old Jessica Ellen Cornish, professionally known as Jessie J is one of the latest pop sensations to originate from the United Kingdom. With multiple awards, honours, and catchy chart-topping hits such as "Bang Bang", "Price Tag" and "Domino", she is truly sensational. To date she has released three studio albums and is currently working on a fourth. With numerous tours, said albums, her own autobiography entitled "Nice To Meet You" and numerous singles including collaborations with some of the world's best known artists, Jessie J has a lot to show for her career so far!
In the UK, her debut album sold over 1,200,000 copies and is one of the top 20 best-selling albums of the decade.
ABRACADABRA · AIN'T BEEN DONE · ALIVE · BANG BANG · BIG WHITE ROOM · BREATHE · BURNIN' UP · CALLING ALL HEARTS · CASUALTY OF LOVE · CONQUER THE WORLD · DAYDREAMIN' · DO IT LIKE A DUDE · DOMINO · DO YOU HEAR WHAT I HEAR? · EXCUSE MY RUDE · FIRE · FLASHLIGHT · GET AWAY · GOLD · GREASE (IS THE WORD) · HARDER WE FALL · HERO · I NEED THIS · I MISS HER · IT'S MY PARTY · KEEP US TOGETHER · LASERLIGHT · LOUD · L.O.V.E. · MAGNETIC · MAMMA KNOWS BEST · MASTERPIECE · MY SHADOW · NOBODY'S PERFECT · PART OF YOUR WORLD · PERSONAL · PRICE TAG · RAINBOW · REMEMBER ME · REPEAT · SAID TOO MUCH · SEAL ME WITH A KISS · SEXY LADY · SEXY SILK · SILVER LINING (CRAZY 'BOUT YOU) · SORRY TO INTERRUPT · STAND UP · STRIP · SQUARE ONE · SWEET TALKER · THUNDER · UNITE · UP · WE DON'T PLAY AROUND · WE WILL ROCK YOU · WHO'S LAUGHING NOW · WHO YOU ARE · WILD · YOU DON'T REALLY KNOW ME · YOUR LOSS IM FOUND